Posts Tagged 'Headphones'
July 7th, 2011 by admin
BlueAnt Wireless has made a new stereo headphones which offers "the absolute best sound that is not artificially manipulated."
Called BlueAnt EMBRACE, the headphones are equipped with 40mm "highly optimised drivers" and sealed-leather pads. They also has a removable cord with integrated in-line remote control and microphone which are  compatible with iPod, iPhone and iPad. The headphones feature a flat fold design, make use of a premium materials such as brushed aluminium, leather, and comes with a stylish, soft carry case.
The Embrace headset is up for order for $199.99.
April 27th, 2011 by admin
Do yo remember Pioner's HDJ-500 heaphones? Now the company intros a new variant of them – the HDJ-500T which promises DJ-quality sound anywhere and comes with straight cord with microphone and phone button, allowing you to use them with your mobile phone for both, listening to music and to make a hands-free calls.
The new model features the same fully enclosed type design that emulates Pioner's flagship HDJ-2000 model and offering 60-degree rotationof the the right cup, along with 40 mm dome type driver units, with 5 – 28,000 Hz frequency Response,  and Impedance of 45 Ohm, promising clear middle and low range for "more accurate drum kick and snare sound monitoring, essential for DJ mixing." The headphones also offers an interchangeable cord plugs into one side of the headphones for full range DJ movement and come with a 1.2 m coiled cord (extends to about 3m) for DJing and mentioned 1m straight cord with built-in a microphone for on the go hands-free talking when listening to music on a mobile phone.
Pioneer HDJ-500T is available in black only and is expected to be available in May for $145.
October 19th, 2009 by admin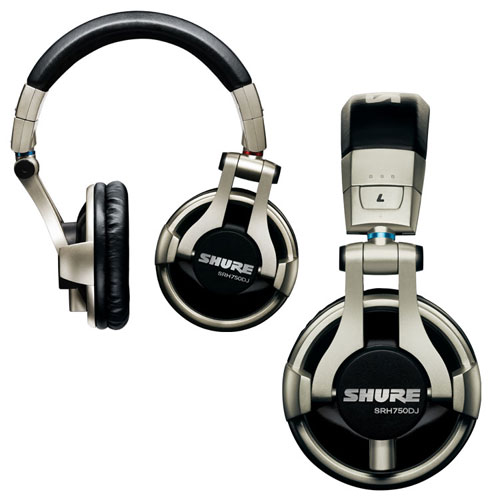 Shure introduces the new SRH750DJ Professional DJ Headphones, joining SRH840, SRH440, and SRH240. The headphones are designed to deliver "world-class audio performance, comfort and durability to professional DJs."
Shure SRH750DJ features custom 50mm sound drivers tuned to offer high-output bass with extended highs, adjustable, collapsible headband with 90-degree swivel ear cups, closed-back, circumaural design rests comfortably over the ears and reduces background noise in noisy club environments and bayonet Clip securely locks cable into ear cup.
Shure's SRH750DJ, as designed for professional DJ, allows 3,000 mW maximum input power for optimized connectivity to DJ mixers. It has 3-meter coiled detachable cable. The pair of headphones is priced at $149.99.
[geeky-gadgets]